Carrier PIgeon #6 Volume 2 Issue 2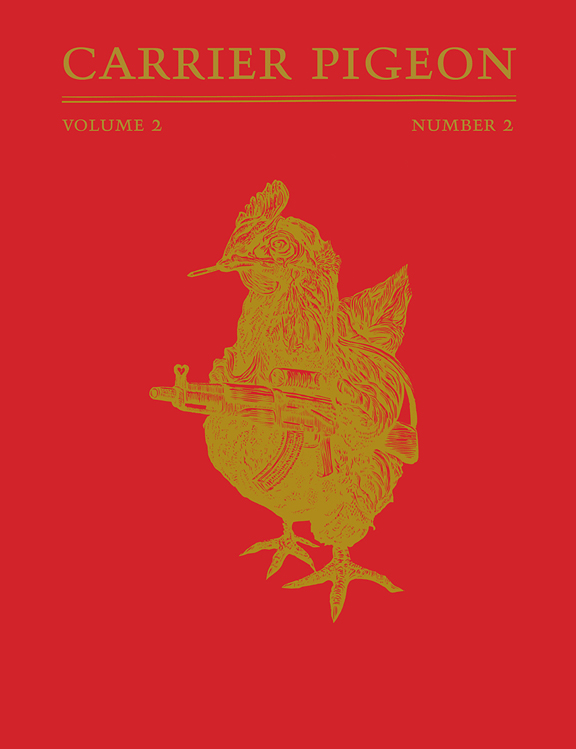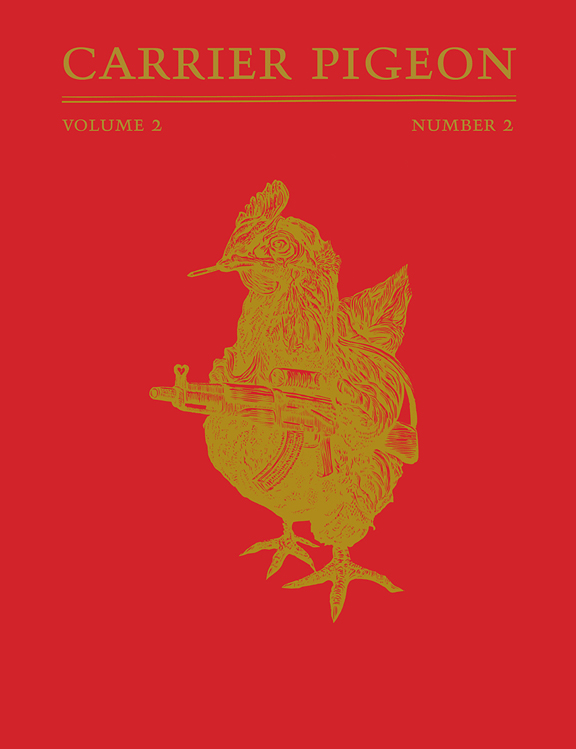 sold out
Carrier PIgeon #6 Volume 2 Issue 2
SOLD OUT!
The artist-run publishers of Carrier Pigeon are pleased to announce the release of the second issue of Volume II, which continues to merge contemporary fiction, fine art, illustration and design, combining new and established voices from each discipline. Volume II issue 2 will be released on May 5, 2012, at PRINT'S ALIVE, a Coney Island event featuring independent publishers and side show performances and hosted by Carrier Pigeon, Cannonball Press and Drive By Press.
The issue opens to front and back end pages featuring artwork by printmaker Rie Hasagawa. Each copy, limited to a retail edition of just 1,000, is a collectible item. As with the previous five issues, the content comprises six short works of fully illustrated fiction and six stimulating artist portfolios.
Matthew Blair's comically eerie tale "Sloth" follows the immaculate conception and ill-fated life of its namesake and is captured with energetic and dramatic brushwork by magazine editor Kristy Caldwell. Repeat contributor Ben Schaeffer returns with another complex piece of science fiction and mortality. "Death's Door" is punctuated with brilliant, inwardly directed drawings from contributing illustratorKirsten Flaherty. Veteran artist Ann Chernow's"Cream of Tomato" is a reminiscent story of a young couple's venture into art crime, accompanied by charming environmental windows drawn by graphic artist Marie Roberts. "Heaven Help Hitler," written byCarrier Pigeon editor-in-chief Russ Spitkovsky, is a hilarious and intricate tale that drifts between visions of auto-erotica and life in Heaven, fiendishly offset byJason Roth's flat, graphic illustrations. Victor Giannini returns with "The Monster of Sunset Park," a sometimes upsetting reach into the realm of dark consciousness from the point of view of a resurrected car crash victim, illustrated with Matt Barteluce'sinspired fantasy. "Feather," written by Mike Posillico, is an offbeat shoot-'em-up about a gun deal that goes from bad to worse, paired with authentic and bold artwork from comics powerhouse Josh Bayer.
The first of six artist portfolios is a presentation of graphite and silverpoint drawings by graphic artist and collagist Tatiana Simonova. Gregory Crane shares a collection of oil paintings depicting near-familiar landscapes laden with metaphor and drenched with color. Martin Mazorra and Mike Houston's portfolio of woodcut and letterpress posters take their humor and wit from side shows, sex, consumerism and more.Edward Fausty, a pioneer of large-format digital printing on fine art papers, shares a portfolio of his signature photo-based nocturnes: introspective, carefully considered landscapes that offer a unique commentary on contemporary American settings.Sara Sanders contributes a portfolio of exquisite charcoal, graphite and muted watercolor still-lifes.
Rounding out the issue with his exceptional series of graphic, mixed media images is Chakaia Booker, whose portfolio is sprinkled with subtle references to tribal art.
Volume II issue 2 of Carrier Pigeon magazine is full-color, 10"x13" and totals 1__ pages. The cover is printed on 240g Monte Blanc paper with leather patterned lamination and gold foil stamping on the front and back covers and spine, and the text pages are printed on Rendezvous 106g paper. The designer is John Bylander, a New York-based graphic designer and a co-editor of Mildred Pierce zine.